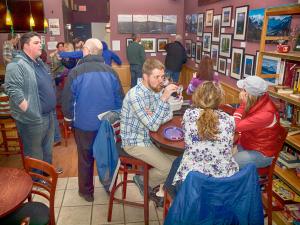 A new photography exhibition opened April 1 at Amazing Grapes wine bar & gallery in Pompton Lakes, New Jersey.

National Park photographer Rob Wilson displays images from a tour of 50 national parks, ranging from Colorado to Texas, California to Alaska, Montana to Maine, Virginia to the Florida Keys. Driven by the theme of "Wanderlust", Wilson is featuring 20 images ranging in size from 8 X 10 prints to a 40" X 18" stretched canvas.

The show will run through April 30.

Amazing Grapes is located at 23 Wanaque Avenue, Pompton Lakes, NJ. The plaza is behind Starbucks on Wanaque Avenue.